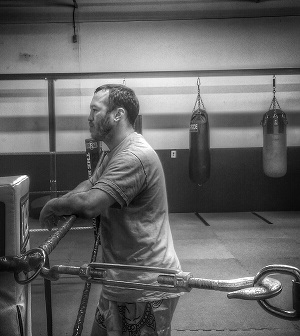 Coach Dave Zuniga has been involved in boxing, kickboxing, and Muay Thai for most of his life. After walking into the Sik-Tai Muay Thai Centre at the age of 13, Dave had his first kickboxing bout within 6 months. From 1994-2000 Dave amassed an amateur kickboxing record of 48 wins, 15 losses, 0 draws, with 31 KOs, while capturing The CMTC North American Muay Thai title (1996), a spot on the IFMA national Muay Thai team (1998), and gold at the WKA Canadian golden gloves Full Contact kickboxing division (1999).
In October 2000, Dave Zuniga made his professional full Muay Thai rules debut in Milwaukee, Wisconsin, winning the bout by KO in the third round. In 2008, finding his true passion in Muay Thai, Dave traveled to the heart of the sport, Thailand, for the first time to Kiatphontip Gym, spending 8 solid weeks of training. He was rewarded with a fight in Bangkok's famed Ratchadamnern Stadium, winning by KO in the second round. Dave had since made multiple trips to train and fight in Thailand during his professional career, living there for over 1 year in total. Dave has fought 15 times in Thailand, including bouts at the 2 major stadiums in Bangkok (Ratchadamnern and Lumpinee), winning 13 bouts, and losing 2.
Upon retirement from competition in 2011, his final professional record sits at 30 wins, 10 losses, 0 draws, 17 KOs. Feeling the need to give back to the sport he loves, Dave opened Nak Muay Gym – Kickboxing and Muay Thai. The techniques taught are based on his respect for Muay Thai in its pure form as a sport and as a martial art, without pandering to alterations for mixed martial arts or as an alteration of other striking martial arts.
Dave's Fights
Below you'll find videos of Dave during the height of his fighting career.
Colosseum 4 Dave Zuniga vs Ryan Madigan
Colosseum 5 Dave Zuniga vs Torrance Taylor